The Comfort Alert® II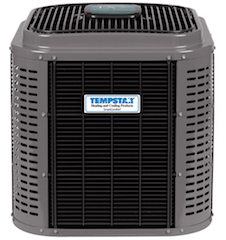 Product description
The two-stage scroll compressor operates most of the time at the quieter, lower stage, changing over to the higher stage at higher outdoor temperatures to produce more cool air. A deluxe sound blanket also reduces compressor sound levels.
The painted, galvanized steel cabinet features a powder-coat, baked-on finish and a coated inlet grille with narrower spacing to provide maximum protection as it allows for proper airflow and easy coil cleaning.
The scroll compressor and the copper 7 mm tubing with aluminum fin coils work collectively to save on energy.
The two-speed fan motor operates most of the time on the quieter, lower speed. Aerodynamic air discharge design reduces operating sounds. Matching with the variable speed indoor fan allows whisper-quiet indoor operation.
The Comfort Alert® II system has all of the standard Comfort Alert® features. Plus, it can alert homeowners to call for service before a problem develops by working with an optional Comfort Alert® II compatible thermostat.
Inquire About This Product
Related Products
Smart Comfort EC 97