Dimplex Brayden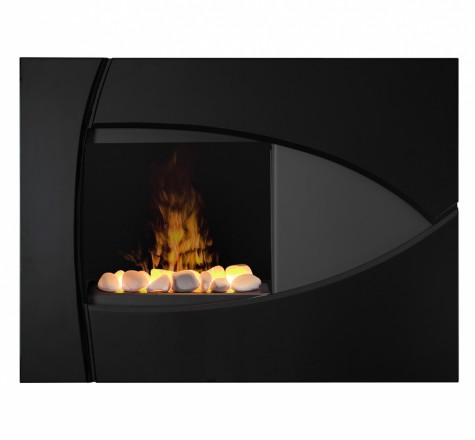 Product description
Dimplex Brayden
Opti-myst
Model # BBK20R
The stunning appearance of this European designed wall-mount fireplace will accent any room of a home. The gloss black and grey will fit contemporary décor or blend casually into a more traditional environment. The whisper quiet fan heater will add warmth to any 400 square foot room with ease.
Revolutionary ultrasonic technology is used to create the flame and smoke effect of the Dimplex Opti-myst. As the mist rises up through the rocks, the light reflects against the water molecules creating a convincing illusion of flames and smoke. The result is an appearance so authentic it will be mistaken for a true wood-burning fire.
Key Features and Benefits
Opti-myst technology

Incredibly, life-like, patented 3-dimensional flame effect. Creates an illusion of fire and smoke. The world's most authentic fireplace experience.

Easy-fill water tank

Offers 14 to 17 hours of continuous operation before refilling is required.

On/off remote

Includes a convenient easy to use on/off remote for control at your fingertips.

Green

The green alternative. No harmful particulates or emissions and 100% efficient.

Safe

With no flame heat or emission and a glass front that remains cool to the touch; our fireplaces are the safe choice for your home.
Inquire About This Product
Related Products